The World Harp Congress, Cardiff: grand finale!
6 Royal harpists plus a big band (the excellent Capital City Jazz Orchestra) is a promising billing for a grand finale and the World Harp Congress did not disappoint. We danced yesterday night away in the company of old and new friends – as you'll get a glimpse of on the video below. We've put together a few impressions from throughout the week.
Special thanks to Catrin Finch, Caryl Thomas and their host committee. It's been a particularly challenging time to organise an WHC, and the results are a triumph.
I want to enable video content and agree that data will be loaded from Google (see
Privacy Policy
).
---
The World Harp Congress, Cardiff: day six!
Day six at the World Harp Congress has stood out for the Camac team through its beautiful classical recitals on the one hand, and brilliant discovery of Wales and Welsh history on the other – with some gipsy swing in the middle!
Florence Sitruk's solo recital took us on a musical voyage throughout Europe, from Italy (Pescetti, Scarlatti), Vienna (Mozart), Spain (Mudarra, Albeniz), France (Debussy, Tournier), Austria (Schubert) and Belgium (Godefroid). In her introductions to the pieces, Florence also stressed that a precious thing about the WHC is how, travelling to a different country each time, it brings old friends and creates new ones from all over the world. She also pointed out that this WHC is attended by a wonderful number of young harpists, and that the next generation would surely lead us to many more beautiful countries in the course of subsequent events. 
Shortly after Florence's recital and showing no signs of flagging after conducting four concerti the night before, Sylvain Blassel took to the stage to perform a characteristically virtuoso programme of Liszt's transcriptions of Schubert Lieder. His performance of Der Wanderer, Gretchen am Spinnrade, Das Wirtshaus, Der Müller und der Bach, Du bist die Ruh, Der Doppelgänger, Auf dem Wasser zu singen, and Das Sterbeglöcklein brought the house down. Not only does Sylvain regularly perform music few would ever have believed possible on the harp, but he performs great music. Far be it from this blog ever to question the quality of the harp original repertoire in general, but perhaps it is fair to say that the opportunity to hear something like these Lieder is special food for harpists' souls. 
Before decamping to St Fagan's National Museum of History for Welsh night, we enjoyed Camac happy hour (at teatime, quite early for a happy hour, but equally it is day six of the World Harp Congress). Christine and Thierry Lutz gave us a wonderful gipsy swing set – and Christine invited her colleague in jazz manouche, Ben Creighton-Griffiths, to join them on stage for an impromptu duet at the end. 
We felt like we had moved some harps and blinked a few times and it was already time to travel out to St Fagan's, a fantastic living history museum. It combines exhibitions of Welsh history and culture with historic buildings that are being preserved by being transported to the museum grounds and then reconstructed, brick by brick. These include a church dating back to 1150 and lavishly repainted as it would have been in 1500; Welsh cottages through the ages; a miners' institute, and much more. Throughout the museum and its grounds, we were treated to diverse performances, from Welsh folk- and clog dancing, to Gwenan Gibbard performing the Cerdd Dant songs in which she specialises. The Wales Harp Ensemble, who played at the start of the night, comprised no fewer than 59 harpists! 
All this is also only part of everything that went on this Wednesday, July 29. As well as being Welsh night, it was Irish day, with the following Irish harp ensembles performing in the foyer at different points in time: the Bray CCÉ Harp Ensemble, the Laois Harp Ensemble, the Mayo Harp Ensemble, the Music Generation Harp Collective, the Louth Harp Ensemble, and Elver Harp Ensemble. On the Scottish side, Heather Downie and Catriona McKay both gave clarsach workshops.
On the Scottish side, Heather Downie and Catriona McKay both gave clarsach workshops; there were jazz workshops too, by Park Stickney and Amanda Whiting/Felice Pomeranz, both on themes of jazz etudes. Alfredo Rolando Ortiz gave a "Fire and Romance" Latin rhythm class, and the programme also featured some further tributes to important harpists. Sioned Williams lectured on John Thomas, Welsh harpist to Queen Victoria, while the "Just One Solo" shared recital series paid homage to the late Pierick Houdy, Murray Schafer, Ami Maayami, Sergiu Natra and Joseph Molnar. 
It seems hard to believe that tomorrow is already the final day of the World Harp Congress. The Camac exhibition will stay open tomorrow throughout the morning before the "We like to move it, move it" great pack-up begins, while the artistic programme will continue throughout the day and evening. We'll keep you posted!
---
The World Harp Congress, Cardiff: day five!
It's been a day full of contrasts for team Camac @WHC2022, which really brings home the amazing variety of the harp in 2022! 
We began with a special project for our augmented electric (MIDI) harp: Orbis, which was created over the course of several residences at the GIPSA-Lab studios in Grenoble. It's a collaboration between composer Arnaud Petit, harpist Ghislaine Petit-Volta, signal specialists James Leonard and Jérôme Villeneuve, and an interface designed by Jean-Philippe Lambert. Orbis is a duet for two harps, both played by Ghislaine; the second harp is inside James Leonard's computer, where he has modelled a full virtual harp. Ghislaine's live playing on the physical MIDI harp triggers the virtual harp, forming a complex and precise counterpoint of harp sounds, voices/narratives, and lights. "If you wanted to fully exploit all the characteristics the augmented harp is giving you in terms of data", says James Leonard, "which string is plucked, how hard, does it have pitch glide…you can write music with technology that respects and leans on the heritage of the harp as an instrument. This hasn't had much attention yet in music tech spheres." The concert was followed by a workshop to discover the MIDI harp, currently the only instrument in the world capable of this kind of modelling. 
 
Speaking of the harp's heritage: Isabelle Perrin gave a lecture on the French sound and technique, which proved so popular that if you couldn't get in, don't worry, she's repeating it again tomorrow! Clarity, elegance, simplicity and a natural, unforced suppleness were Isabelle's key points, along with plenty of clear instruction about how actually to achieve it, and how it relates to Impressionism and the sound of the French language. 
In one of today's dramatic contrasts, we moved from Isabelle's lecture to Hélène Breschand's solo performance which – as so often – was an intense moment suspended in time. The harp music began offstage before Hélène moved slowly into view, pushing the harp and playing it at the same time. We were lucky to hear Hélène's own compositions "Minotaur" (which you can also watch online here for Les Jeudis de la Harpe) and "Le 7e sceau", among others.
The Royal Welsh College of Music and Drama's splendid Carne Foyer was a light and airy backdrop for Christine and Thierry Lutz's gipsy swing – and also Ben Creighton Griffiths, later in the day, with his terrific Transatlantic Hot Club band. Ben, Adrien Chevalier (violin) and Don Sweeney (bass) performed a set of French, Latin and swing standards, in the tradition of Django Reinhardt and Stephane Grappelli and including a beautiful La Vie en Rose (you can also hear Ben perform this solo on…Les Jeudis de la Harpe).
Indeed, jazz lovers were spoiled for choice today. As ever, Park Stickney managed to be dazzlingly impressive and hilarious at the same time; his Cubik's Rube (think about it) will never be forgotten by all who watched it. By the time he got to the end of the piece he had solved the Rubik's cube, or by the time he had solved the Rubik's cube he had finished the piece, depending on your perspective. Park also liberated the Hindemith Sonata's jazz potential (no parallel fifths were harmed in the process), and created a rousing audience chorus about finishing a PhD. 
In the evening, three further legends of the jazz harp took to the stage: Rossitza Milevska with drummer Cédric Le Donne; Amanda Whiting with trio colleagues Mark O'Connor (drums) and Aidan Thorne (bass); and Pia Salvia with Noam Israeli. All received rapturous applause in the warm and enthusiastic atmosphere that has become characteristic of this Congress; there's a real sense of delight that the event has finally been able to happen, and huge appreciation for all the fantastic harpists who brave playing to…audiences composed almost exclusively of other harpists. 
No Congress day would be complete without the Camac happy hour and today we were thrilled to welcome Leonard Jacome, this time playing the amplified acoustic llanera, rather than the electric llanera he performed on last night. 
In St David's Hall, the evening concert was dedicated to unusual concertos, conducted by Sylvain Blassel. Congratulations to all the soloists: Mercedes Gomez and Lucrecia Jancsa (harps) and Cai Chalres (guitar) in Garardo Tamez's "Dos Dalias" Concierto for 2 harps; Liucilė U. Vilimaitė performing her own, evocative "Grass Snakes"; Emily Mitchell performing Gary Shocker's YiJing for Harp and Chamber Orchestra; Catriona McKay and Christ Stout in Sally Beamish's dynamic and also deeply evocative Seavaigers Harp and Fiddle Concerto (performed in the presence of the composer, fortunately still in Cardiff after Hive on Sunday night); and Gabriella Dall'Olio in Marquez's Másceras Harp Concerto. 
Wow! And if this isn't enough to convince you of how much the 21st century harp is capable of – we'll leave you with a little excerpt of how we rounded off the night. 
---
The World Harp Congress, Cardiff: day four!
Monday, July 25 has been a super-busy day for the Camac team, kicking off with a flurry of harp moving to concerts all over the RWCMD. It was great to see several graduates of our sponsorship projects appearing in Focus on Youth: Natalia Skonieczna (Poland), member of the Académie Camac 2022; Martin Sadilek (Czech Republic), a prizewinner in the recent Félix Godefroid Competition; and Janice Hur (South Korea), a Young Talent prizewinner at 2017's Godefroid Competition who also performed solo at our festival in Washington DC. 
The sense of family continued with a concert given by Tajana Vukelić Peić, our partner in Croatia. Together with Peter First, Tajana performed an intriguing duo by Charles Reskin (1946-): Three Gestures for harp and trumpet, and including a spooky Buddhist ghost in the second movement. 
We were sorry to have to miss Rhodri Davies's Experimental Harp performance, having never forgotten his film of burning a harp at the World Harp Congress in Amsterdam (2008). We were, however, cheered by being able to make it to a beautiful performance by Elsa Garcia and Felicitas Geiger half an hour later: a programme of music by women composers from the 19th century. Elsa and Felicitas are both students of Isabelle Perrin in Oslo, and their natural ensemble and choice of fine yet neglected works were lovely to listen to. 
Before lunch, our two Jubilé harps appeared together in concert for the first time, in a stunning presentation by Mai Fukui and Caroline Lizotte. Mai played Reiko Hashimoto's 'L'aile éloignée' ("the distant wing"), for pedal harp and DHC 32. This work is inspired by the composer's love of birds – the DHC is the baby bird! 
Caroline Lizotte then took to the stage to perform her Stellar Sonata Op 51 for electroacoustic harp, on our electroacoustic Jubilé. This received a standing ovation, and there was also time to be treated to an encore: a movement from Suite Galactique. 
After lunch, friends from Paris appeared in the foyer: the Harpo Melusine Ensemble, under the direction of Myriam Serfass. They were followed by Stina Hellberg Agback's excellent solo jazz and equally excellent, dry and thoughtful introductions. Stina likes to play on an acoustic harp with an Ischell Box preamp system, and we all enjoyed the pure and faithful sound this type of amplification provides. The final concert of the day in the (packed) foyer starred Tara Minton and Ed Babar performing music from their latest album, "Two for the Road". Their duo is a truly joy to hear and if you missed it, you can hear many of the songs they played in Cardiff during their recent online concert for our Jeudis de la Harpe YouTube series. 
Sophie Hallynck and her colleagues Isabelle Chardon (violin) and Christophe Delporte (accordion), aka the Phalaena Trio, blew us away with the energy of their playing and the originality of their ensemble sound, and across a fantastic range of repertoire from Scarlatti to Franck and de Falla. If you have a chance to hear them live, don't pass it up! 
Does this sound like a lot of harp concerts? We're not finished: the WHC, home of extreme harping, still had seven or eight terrific events in store for today and your indefatigable Camac team went to them all. We couldn't miss Pluck!, the harp musical created by Katryna Tan and her wonderful students from her Rave Harps studio. Katryna has been writing these since 2012 and they show what standards a group of even the youngest students can attain. The musicals are immaculately staged, entirely performed from memory (including the harp ensemble pieces), and radiate élan, optimism and joy. 
Don't forget that the Camac happy hour starts every day at 17:30; today was the turn of Heather Downie, with a brilliant Scottish trad set for lever harp and vocals.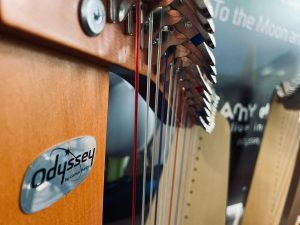 Proceeding along St Mary's St to St David's Hall for the "World of Harps" concert, it seemed like the entire congress was there trying to eat in restaurants quickly. We didn't want to dawdle either: harp music from throughout the world was waiting for us, from Syria (Maya Youssef), Japan (Hiroko Sue), the Gambia (Sura Susso, Suntou Susso and Modou N'Diaye), Venezuela (Leonard Jacome, on the electric llanera we built in collaboration with him), Scotland (Rachel Newton, on DHC 36), and Wales (contemporary folk band, Calan). We also appreciated Catrin Finch's introductions to each, full of interesting facts about the different harp builds and musical cultures. Another hallmark of the World Harp Congress is its many journeys: into the heart of the host country, and also far and wide. 
---
The World Harp Congress, Cardiff: day three!
The World Harp Congress has already featured some really interesting teaching classes. Yesterday, Morwenna Louttit-Vermmatt gave a great workshop about learners with additional needs, and today, Csilla Gulyaś introduced us to the Kodály method. Of course, the two sessions had different points of focus, but both made us reflect that there are many available keys to unlock music for students. For example, Morwenna has come up with rainbow-coloured strings for harps. Combined with various forms of colour-coded notation, these offer an alternative to reading sheet music, whose many black-and-white lines can be difficult for dyslexics. She also discussed ways for music-making to be inclusive for non-verbal or physically handicapped students. 
Kodály's method, meanwhile, is not focused on additional needs but aims to train children's musical ears in as natural a way as possible. It begins with nursery and folk songs in the child's mother tongue, includes improvising and experimenting, and emphasises the fact that music is for everyone. As such, music becomes part of the culture the child is already immersed in, rather than a separate task to learn by rote. Singing with different gestures and syllables to mark time was clearly particularly effective (rather than counting, which must be one of the hardest ways to teach rhythm to small children). 
In the second half of the morning, we felt privileged to attend a moving tribute to the late Ann Griffiths, compiled by Helen Davies and presented by Val Aldrich-Smith. Ann studied with Pierre Jamet at the Paris Conservatoire and returned to Wales determined to transmit this style of teaching, founding summer masterclasses to which she invited international professors. Standard now, it was, Val reminded us, trail-blazing at the time. Ann was also one of the earliest supporters of Camac harps, and we will always be grateful for her faith in our instruments when they were very young. 
Milena Hoge gave an impressive workshop-demonstration on advanced pedal techniques for jazz harp: early attempts to copy them later failed, but practice makes perfect and hope springs eternal. Milena is currently a jazz student at the Hamburg Hochschule für Musik – and it was a strong afternoon for Germany at the WHC, for Milena was followed by Evelyn Huber and Margaret Köll's fantastic duo recital of Welsh triple and Big Blue electroacoustic harp. With music ranging from Dowland to Evelyn's own compositions and Gregor Hübner's "Barcelona", specially written for this combination, the sound was varied, original and blended really well (for the curious who were not there, Evelyn has a recording of Barcelona available here on YouTube). 
The Camac parties have begun…many thanks to Ben Creighton-Griffiths for inaugurating the blue Jubilé with such a great jazz set.
The evening brought more new music, and a particularly exciting evening for us: Catrin Finch performed "Hive", a new concerto by Sally Beamish, with the BBC National Orchestra of Wales conducted by Ariane Matiakh. Sally Beamish was also present and introduced her work to a sold-out City Hall: "Hive" is about the life cycle of bees throughout the seasons, and has been co-commissioned by the WHC and the BBC Proms. Its skilful, dramatic orchestration provided a fitting backdrop for Catrin's virtuosity, and the combination of this, BBC NOW's powerful sound and the electroacoustic harp rising effortlessly above it brought the house down. 
Perhaps it's only at the World Harp Congress (or a Camac festival!) that you can be treated to three harp concertos in one evening, and we also loved Anne-Marie O'Farrell's "In Light Anew" Concerto for Lever Harp and Orchestra, commissioned by RTÉ Lyric FM, and receiving its world premier at the Congress. Finally, the Glière Concerto was exquisitely performed by Anneleen Lenaerts. What can we say? It is hard to imagine how it could have been better-played. 
A standing ovation for Anneleen Lenaerts
Travelling with your own wine fridge is surely one mark of an experienced WHC attendee and one further event has nestled into the WHC programme as from today: Camac's exhibition stand pop-up concerts. Join us every day at 17:30 for an impromptu half hour with a great artist on the Camac stage and a refreshing aperitif in your hand. Many thanks to Ben Creighton-Griffiths for getting the Camac parties started today, with a great jazz set that also marked our electroacoustic Jubilé's very first performance. 
The Camac parties have begun…many thanks to Ben Creighton-Griffiths for inaugurating the blue Jubilé with such a great jazz set.
---
The World Harp Congress, Cardiff 2022: day two!
Day two at the World Harp Congress, and the artistic programme is in full swing. It is always the case at the WHC that we wish we could clone ourselves so we could go to everything, but here's some impressions of what we managed to get to! 
We began the morning with a fascinating tribute to the late, great Welsh harpist Osian Ellis, given by Elinor Bennett and Sioned Williams. As well as solos and duos performed by Elinor and Sioned, we were treated to video footage of Osian himself, reminiscing about his extraordinary career and also playing.
Meanwhile, the WHC's special Focus on Youth platform also began; this will run throughout the week, and features over thirty young harpists from all over the world. We couldn't get into the packed hall for today's FOY, which is our own fault for arriving at the last minute – listening with your ear pressed to the door is better than nothing, but we'll try again for a seat tomorrow.
Other highlights included several harp ensembles from the British Conservatoires: our hosts, the Royal Welsh College of Music and Drama, the Guildhall School of Music and Drama, and the Trinity Laban Harp Ensemble (the Royal Academy is tomorrow). All these colleges have also loaned harps for the Congress, which is surely not simple to organise and a lovely gesture of solidarity.
Another moment of solidarity came in the form of Veronika Lemishenko and Hannah Stone's Ukraine/Wales recital, backlit in the colours of the Ukrainian flag and with music by John Thomas, Vasyl Barvinsky, William Mathias, Evgen Andreev, Valeriy Antonyuk and Paul Patterson (with Paul himself, always such a terrific support to harpists, in the audience).
Maia Darmé and Mohamed-Amine Kalai also introduced us to the combination of harp and kanun, and music encircling the Mediterranean: Turkish, North African, Levantine, Hispano-Andalusian, Italian, Greek…and French, finishing off with Aznavour's La Bohème!
The World Harp Congress is a chance to experience the world's finest harpists, and more new harp music than you could ever normally hope to find in one place. The evening concert had both at the same time, thanks to Gwyneth Wentink and Remy van Kesteren at Cardiff's City Hall. Each artist has won some of the most important classical harp prizes, before carving out their own, original musical paths. Gwyneth opened the concert with her Elements Trio: harp, saxophones (George Brooks) and North Indian violin and vocals (Kala Ramnath). Their virtuoso fusion of Western and Indian art music was relaxing, thought-provoking and dynamic, included improvisatory elements, and introduced us all to new ways of thinking about chamber music. Remy would have followed with his incredible Robot Orchestra, but Brexit had prevented the robots from travelling. As one boundary shrinks, another however expands: Remy offered a solo set instead of great power and poignance by turns, with a plethora of truly unique voices for the harp.
Speaking of voices: the evening concert began with a glorious welcome from the Cardiff Arms Park Male Choir. We were blown away by the power and richness of the sound!
Home on the Camac exhibition stand, it has been a busy day meeting friends old and new. Watch out for our pop-up concerts, which may also include a refreshing apéritif! More news of those, and much more, tomorrow: keep an eye on the @CamacHarps socials throughout the day.
---
The World Harp Congress, Cardiff 2022: Day One!
The Camac team is out in force in Cardiff, for the World Harp Congress 2022. Yesterday the exhibitions opened, and we were thrilled to present our Jubilé model. Here's a few impressions from the launch of the Concert Grand Jubilé, and its electroacoustic sister in a new blue finish. 
Here's also a little video tour of the calm before the storm…
…before World Harp Congress Chair of the Board Kathy Kathy Kienzle, WHC2022 Artistic Director Catrin Finch, and Chair of Host Committee Caryl Thomas cut the ceremonial ribbon and the Congress was well and truly underway! As Kathy said in her opening address, thanks to the pandemic the Cardiff team have found themselves the longest-serving host committee in the history of the WHC. This has presented many unique challenges, but most of 2020's original programme has been preserved, which is a massive achievement. 
As we type this, intrepid early-rising harpists are warming up for the day with Alexander Technique, and Focus on Youth are busy tuning and practising to start their presentations at 10AM Cardiff time. Before the day is out, we'll have enjoyed teaching workshops, recitals across many different musical styles, and what promises to be an amazing opening night in Cardiff City Hall.
Mae'n mynd i fod yn wythnos wych! It's going to be a great week!