Coming Up
Wales International Harp Festival 2018 and Edinburgh Harp Festival 2018
With the support of our colleagues from Camac France, we are cloning ourselves in order to be in Caernarfon and in Edinburgh at the same time! 

Caernarfon: We will be supplying harps for the competitions at the Wales International Harp Festival, and Camac's head technician, Enric De Anciola, will also be in situ throughout the festival week carrying out free regulations of Camac harps! 
To book a free regulation of your Camac (April 1 – 7), please contact us to reserve your place.
Edinburgh International Harp Festival: as ever we are looking forward to exhibiting in (appropriately enough) the French room at Merchiston Castle School!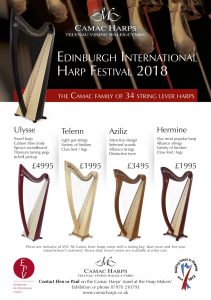 ---
---
---