Coming Up
Caernarfon Camac Harp Day Saturday 5 October 2019
Caernarfon Camac Harps Day: Join us for a day of harp playing and an informal concert with Claire Jones and Dylan Wyn Rowlands at Galeri, Caernarfon together with an exhibition of Camac harps. Full timetable
Harp on Wight International Festival 25 – 29 October 2019
Harp on Wight International Festival: Once again this year we are heading over to Ryde to exhibit in the Harp Showroom in Ryde Methodist Church. Full festival details can be found here: www.harponwight.co.uk
Harp Rock Cafe Saturday 9 November 2019
Harp Rock Cafe: 9am-1pm at Wycombe High School. Come along and try the harp for the first time or if you already play then join in the workshop with inspirational harpist Eleanor Turner. Further details and registration form can be found here: https://www.chilternmusicacademy.org/harp-rock-cafe/
Edinburgh Camac Harp Day Saturday 16 November 2019
Edinburgh Camac Harp Day: Join us for a jam packed day featuring a film score workshop with Heather Downie, a Blues workshop with Tsvetelina Likova as well as an introduction to our electric harps, a try the harp session and an exhibition of Camac harps. Full details
She's electric, can I be electric too? Saturday 23 November 2019
She's electric, can I be electric too?: Aimed at those who have never played on an electric harp, call into our Cardiff showroom and let Shelley Fairplay guide you through a hands-on experience to experiment playing on electric harps and also with some of her favorite effects pedals including the popular 'looper'. This is an informal session and you are welcome to drop in without booking between 10.30am-12.30pm
Cheltenham Harp Day Sunday 8 December 2019
Cheltenham Harp Day: We're delighted to be teaming up once again with Natasha Gale and Tara Minton for a day of harp playing in Cheltenham. Further details to follow
Edinburgh International Harp Festival 3 – 8 April 2020
Edinburgh International Harp Festival: as ever we are looking forward to exhibiting in (appropriately enough) the French room at Merchiston Castle School! 
14th World Harp Congress 25 – 30 July 2020
14th World Harp Congress: It is an enormous privilege to have this Congress in our home city and we look forward to welcoming harpists from all over the world to Cardiff. Full details of the Congress can be found here: https://www.whc2020.wales/
Past Projects
Harp Taster Sessions in Cardiff
We were delighted to host a "Harp Taster" session, with Cardiff harpist Shelley Fairplay.
During the workshop, participants were introduced  to a variety of different harps including Celtic, pedal and lap harps. We provided everyone with a lever harp to use throughout the session, and they learned how to sit, basic harp technique and of course how to create beautiful sounds! By the end of the session, everyone had found all the notes on their harp, played an accompaniment along with Shelley, and played a tune on their own! 
For all budding harpists, don't forget that our harp
rental
scheme starts from just £60 a month.
---
Camac Educational Workshops
This Autumn we were delighted to be on tour with renowned harpist Elinor Bennett for a series of workshops supporting the Wales International Harp Festival. In five locations all over the UK we teamed up with a local harp teacher to bring you a day full of harp playing for harpists of all abilities while also spreading the word about the Festival happening in Caernarfon in April 2018. As well as working with Elinor and the local teacher there was also the opportunity to try a selection of Camac harps at our exhibitions which ran at each event.
2000 miles later, after sun, rain and snow, we have reached the end of the UK Camac Educational Workshop tour. A huge thank you to our guest tutors Rohan Platts, Elfair Grug, Llywelyn Jones, Shelley Fairplay and Heather Downie; to all the harpists who came and took part; to Catrin, Nia and the team at CGWM; and to Camac Harps for all their support. An extra special thank you to Elinor Bennett for her inspiration, enthusiasm and friendship throughout the project. We look forward to seeing you all at the festival in Caernarfon in April 2018.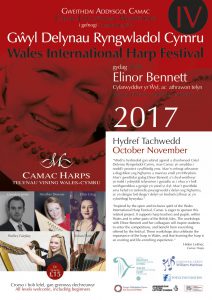 ---
Edinburgh Festival 2017
We exhibit at the Edinburgh International Harp Festival every year – appropriately enough, always in the French room at Merchiston Castle school! This year, we were also honoured to win a tender to supply six lever harps to the Clarsach Society. These harps are going to be used for the Clarsach Society rental scheme.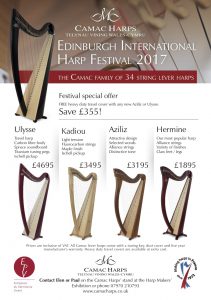 ---
Cardiff Camac Harp Weekend 2017 
Our third Cardiff Camac weekend was a great success! This year, we welcomed none other than Deborah Henson-Conant herself – the inspiration behind our DHC Blue Light electroharps. We also enjoyed concerts and workshops by Eleanor Turner, Tara Minton, Gabriella Dall'Olio, Ben Creighton-Griffiths and Shelley Fairplay. We were joined by Jakez François, Enric De Anciola and Helen Leitner from Camac France, with a special exhibition and free regulations of Camac harps.